MéCour wishes to thank all those who visited the booth during the show. It was great seeing old and new faces and discussing particular applications that our new thermal units and systems could support and enhance the end results.
SLAS 2108 was the busiest show for MéCour to date, and we were fortunate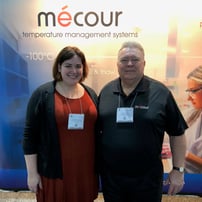 and proud to introduce the "COUR" of MéCour, my daughter Courtney (on right) to the family business and obtain firsthand experience working the booth and assisting the attendees.
Without question, the new product that gathered the most attention was the MéCour dry air system MDAS -90C that was maintaining a perfectly dry interior to the five-plate thermal tower
operating at -5°C. As noted to all, MéCour's objective for the end of 2017 was to design and implement an enclosed MéCour thermal system (for thermal towers, thermal tube racks, thermal hotel/incubators or reagent/media bottle units, etc.) that enabled our customers to operate their applications at low temperatures (ambient to -65°C for now) without the hassles associated with condensation development causing contamination issues or just being plain messy to deal with throughout the operation.
The new dry air systems can be powered by the compact and mobile MéCour dry air compressor unit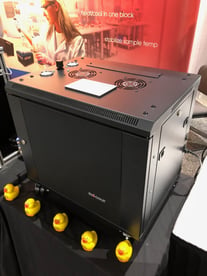 , which is a self-contained dryer pumping out pure dry air to the thermal unit enclosure. This unit provides a constant purge of dry air to protect the thermal surfaces and consumables inside from condensation and frost build-up. Another option for our customers is to utilize a facility air feed if available. We will then only provide the dry air filters and necessary components to create the dry air system (see demo). The system can integrate with and protect virtually any thermal unit we make for either benchtop or automated applications. Our dry air system is quiet, energy efficient, mobile and can either be remoted to 5 to 50 feet from application or be placed under bench. The unit is more than capable of supporting multiple thermal units that are designed with exterior enclosures.
MéCour displayed this dry air system controlling the new gripper-friendly, retractable cover incubation unit that enclosed the five-plate thermal tower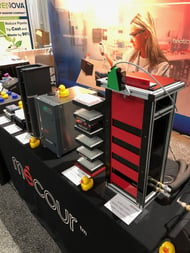 . The front cover is activated via a light sensor upon gripper approach, which lifts cover providing access to all thermal nests. The cover lowers automatically as the gripper recedes. All MéCour thermal towers are designed to end user specifications regarding consumables used, which dictate the spacing gripper requires for easy access to plates. Combine this information with available deck space; gripper access requirements and any other pertinent info to insure a smooth integration,
These dry air systems will improve work flow while minimizing downtime for defrosting and cleaning the thermal system.
Other thermal units displayed are all designed to provide uniform, stable temperature between -100° to a +300°C, with highly reproducible end results while accommodating virtually any consumable utilized in labs today. All thermal systems can be integrated with either magnetic stir plates or vigorous shakes if required to mix sample content while thermally controlled.
We are looking forward to following up with everyone and the opportunity to improve your application process with more reliable thermal management of the sample content. We are also looking forward to the first ever SLAS Europe show in Brussels, Belgium in late June. If visiting the area, stop by again and see what's new at that time!
Whether you attended or not, visit the MéCour thermal products catalog to see how we can provide you with both heating and cooling solutions for your applications including Analysis, Drug Discovery, Genomics and Cells. MéCour units have compliant SBS base footprints for easy loading onto existing plate nests. Improve your applications' throughput and efficiency while controlling temperature throughout entire automated process.
Looking forward to hearing from you soon!
Ken Linehan
President
MéCour Temperature Control