80/60-10 HML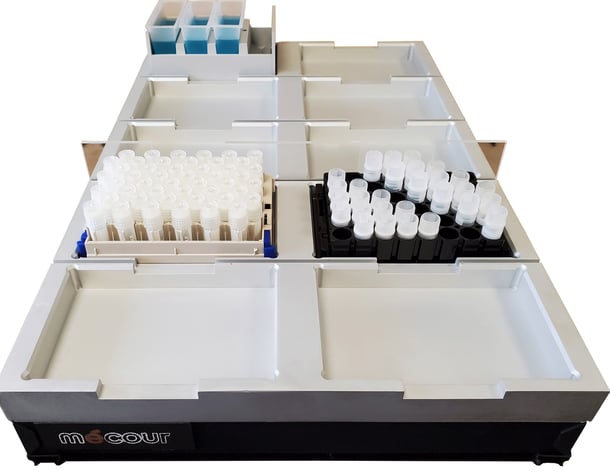 This 10-position multi-purpose thermal unit was designed specifically for a Hamilton Company customer with a unique tube rack design that integrates with the Hamilton gripper to manipulate and move tube racks. Additional modifications to the 10 thermal nests include sufficiently deep thermal wells to impart maximum temperature transfer to racks while operating at a negative 30°C and splash guards that protect each nest from cross contamination.
Designed to easily integrate with the full range of Hamilton STAR and Nimbus decks, the quick fluid disconnects (standard on all MéCour thermal units) allow for easy removal or placement on the deck without having to interrupt the operation of the circulator that's providing the constant controlled thermal fluid to the unit.
Different plate capacity MéCour units available to support the demands of your particular work flow without compromising end results or sample integrity. Complete sample prep can be conducted in just one thermal unit that will provide an overall temperature range of -80°C to +200°C. Eliminate compromising sample integrities due to lack of or erratic temperature stability to all consumables supported by this thermal system. Thermal system supports large batches of bioanalytical processes from aliquoting through analysis and samples while properly temperature controlled to maintain sample integrity for either short- or long-term cycles. Suitable for sample storage, DNA isolation and precipitation reactions.