Thermo Scientific
Matrix Automated Pipetting Systems from Thermo Scientific are ideal for virtually any medium- or high-throughput 96 and 384 format liquid handling application. The entire Thermo automated pipetting product line gives you the choice of positive displacement and air displacement technology with a combined volume range of 0.1μL-300μL.
The PlateMate Plusò and PlateMate 2×2ò utilize interchangeable pipetting heads with disposable and fixed tip options. The Hydra IIò and Hydra DTò pipetting systems feature syringe-based liquid handling technology and a compact design that can be easily fit into in a standard biological hood.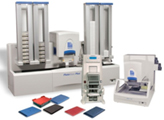 Thermo Scientific supplies highly flexible, modular drug discovery platforms that automate a wide variety of assays, methods and protocols. Our systems meet the needs of genomic, proteomic, biochemical and cell-based applications, particularly within high throughput screening (HTS) laboratories. With over 20 years of experience and an enviable range of key technologies including automated storage, robotics, instrumentation and software, we are the leading innovator of laboratory automation systems.
Whether you are looking for single instrument loading, automated incubation or integration services, we meet your evolving drug discovery needs.