Agilent Technologies
Bravo
The Bravo Liquid Handling Platform from Agilent is the fastest and most versatile small footprint liquid handling system available. Its space-saving nine plate-position footprint can fit inside a standard laminar flow hood, enabling automated liquid handling for cell-based assays or hazardous reagent handling.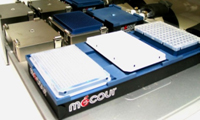 The Bravo utilizes the proven high-accuracy pipette heads for dispensing from 100 nl to 200 ul in 96, 384, and 1536 well formats or to a single column, row or well of any of these plate types. The deck is easily customized to meet a wide range of assays, with numerous plate pad options including temperature control positions. Up to nine deck positions can be equipped with thermal plate pads that offer precise temperature control from -20 °C to 100 °C.
BioCel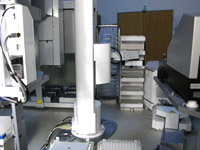 The Agilent BioCel System automates any microplate-based protocol providing maximum walk-away time and throughput, all in the most compact design. The new Direct Drive Robot brings speed and precision to a system that is both affordable and easily expandable. With modular cells, options for various enclosures, and environmental control, BioCel Systems are tailored to your individual needs. Operated by Agilent VWorks software, the most flexible and efficient scheduling software available, BioCel Systems will deliver the longest walk away time and throughput of any integrated system.