d
e

sign specific thermal solutions
How are you maintaining the temperature of your expensive samples? We have the best temperature control solutions.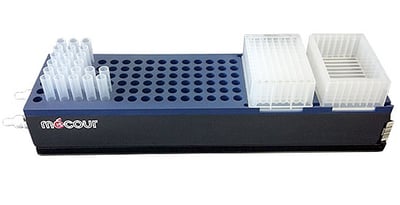 These are the proud MeCour thermal units nicknamed the "The Odd Ducks." All these units are designed around the wide range of reagent media bottles, reaction vessels, multiple different tubes and vials, flat thermal surfaces for media bags, etc. MeCour prides itself in providing excellent thermal stability to all of these different labware and vessels commonly used in laboratories. MeCour thermal blocks accommodate SBS-compliant consumables and range in plate capacity; plate style or type (i.e., DWP or reservoirs) in order to meet specific application requirements. Plate capacities range from 1 to 20 in either horizontal layout or vertical thermal towers.
All MeCour thermal blocks integrate with any automation platform or bench top applications. Please reference the Applications and Automation dropdown menus for compatible thermal blocks for your specific applications.
design specific thermal products