Analytik-Jena
The new CyBio-RoboSpense offers all the technical features that can be expected from a modern liquid handling robot. Available in 3 different deck sizes and equipped with 4 or 8 individually addressable liquid channels and an optional robotic microplate gripper, it can be configured to meet your current and future automation requirements.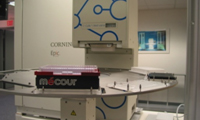 Enabling free deck configuration with a large variety of accessories, the Cybio system can be easily adapted to your application. Capacity for 5 microplates and one plate hotel in each of the 5 to 11 deck sections, offers more labware capacity on smaller space than any other liquid handler.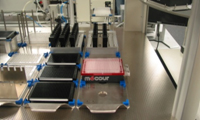 The CyBio -Disk uses the proven 96- and 384 parallel liquid handling of the CyBio -Well . Instead of a linear track system a 10-position turntable is used as microplate deck for extremely high throughput and flexibility. The microplate deck also easily accommodates all the plates and reservoirs that are needed if your application includes complex liquid handling protocols. The CyBio -Disk can be equipped with an additional pipetting head and modularly expanded with a rotating arm, transport systems and plate storage capacity. This instrument can also be seamlessly integrated with the CyBi-Robospense for efficient PCR work .