STKR35/PAA
MéCour continues to develop thermal units that operate at temperatures below dew point and control condensation to as low as -80°C with integration of the MDAS unit. This Thermal Plate Stacker accommodates up to 35 plates accessed in landscape position. Unit designed to run as low as -5°C with an internal constant feed of dry air to limit the development of unwanted condensation. Customer opted out of incorporating exterior retractable cover that would assist in maintaining effectiveness of dry air system. Twin stackers designed to integrate with PAA automated deck and gripper.
MéCour Stacker utilizes base mounting plate PAA and customer provided making installation and loading/unloading process as easy as the original stacker. Retractable or manually removable protective covers are available to insure interior of stacker remains condensation free.
Plate capacities range from 30 to 100 microplates and available in Landscape or Portrait orientation.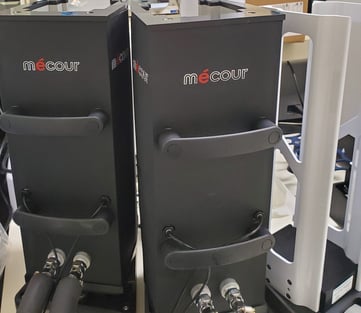 Original plate stackers MeCour Thermal Plate Stackers
occupying exact same footprint