This year we made our first appearance at Analytica in Munich, Germany, and it was a great success! The introduction of our wide range of thermal units that provide stable, constant temperature management was well received with both curiosity for first time viewers,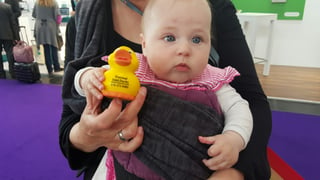 like our youngest booth visitor on the left, as well as from the majority of our visitors. There was relief that such systems do exist to resolve their erratic and unreliable temperature control problems encountered when trying to stabilize sample temperature. The most popular units seemed to be the Reagent/Media Bottles as well as the low temp systems required for BioBanking procedures and cell prep and storage applications, requiring temperature management from 0°C down to -95°C.
We gratefully acknowledge the generosity of Huber in providing the Minichiller and Petit Fleur circulators that powered the MéCour Thermal Plate Stacker, Thermal Tower and Hamilton 5-plate Thermal Carrier during the exhibition.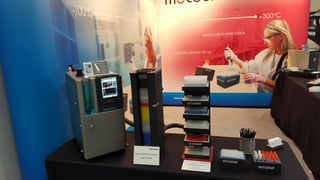 Overall, MéCour was extremely pleased with the reception our product line received and the ability to assure the attendees we can and will design specific thermal systems that address and resolve their current temperature management headaches experienced in labs today.
We look forward to both Analytica and Achema that will both be held in 2018.
And of course, if we can help you with your specific temperature control challenges, feel free to contact us so we can talk about it.