Laboratory Thermal Product Catalog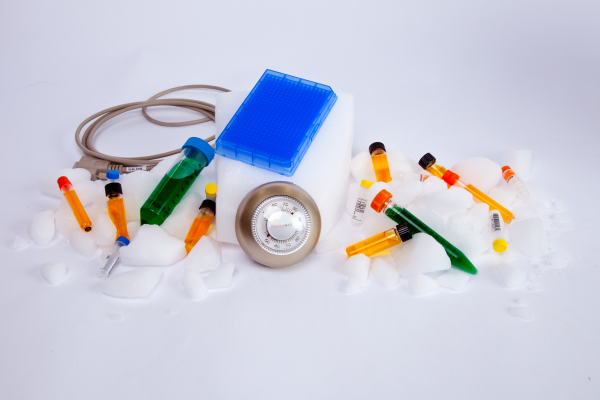 Is this how you're maintaining the temperature of your expensive samples? We have a better solution.
MéCour's patent-pending thermal blocks and laboratory thermal products provide precise, uniform temperatures for extended periods of time across the entire thermal surface.
Maintaining constant temperature can be a continuous problem. If you have used methods like ice buckets, water baths, thermal electric devices, heating blocks, or refrigerators you've probably noticed:
The inability to maintain a consistent temperature over an extended period of time
Poor or uneven temperature distribution across the work surface
The temperature source can be a concern for contamination
Working in a wet area can be a potential electrical hazard
Your work surface becomes unstable and you lose samples
MéCour thermal blocks and laboratory thermal products eliminate the above issues and provide the following advantages over conventional heating/cooling methods:
Temperature range from -100 °C to +250°C
Temperature precision to ±0.1 °C
Heating or cooling within the same thermal block
Easy connection to circulation baths
Sealed to eliminate hazards and contamination
Compatible with existing lab equipment (chillers/heaters, stir plates, and modular shakers)
Perfect integration with automation systems
A stable, rock-solid work surface for performing experiments
If you don't see your format or application on our web site, keep in mind that MéCour thermal blocks can be designed to meet your specific requirements. Simply fill out our request form, and we will get back to you with more information.