MéCour's fourth time exhibiting at the ASMS show was a huge success! We displayed the newly upgraded fluid-driven thermal units that included the three-drawer/six-plate position thermal hotel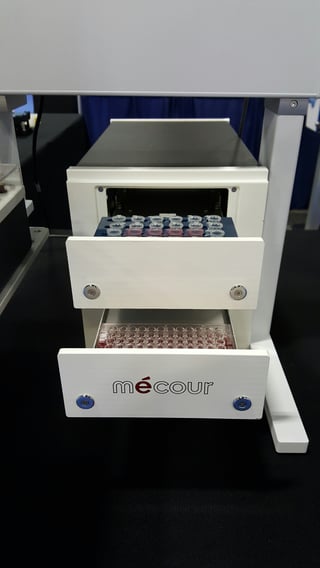 that is rated to sustain sample temps at -15 ° to -20°C . The six positions offer maximum flexibility in the use of various consumables or small tube racks. (pictured on right)
The hotel's compact footprint fits with new or older versions of the CTC PAL (main visual below). A powerful, yet economical Huber Minichiller circulator provides constant uniform temperature to the hotel and adjacent PCR plate and 24-vial unit and the cooling chamber that envelopes the valve to maintain constant reproducible temperature stability to entire MéCour system.
Many visitors expressed concerns that they could not reach, let alone sustain sample temps at 4°C, thus rendering ineffective results and slowing workflow procedures.
MéCour will design the thermal system that best suits your needs and insure
your samples are definitely sustained at desired temperature of 4°C or whatever temperature you need. Integration is seamless, and set-up time for the system we've detailed is fast.
---
Thermal Hotel Integrated with CTC PAL System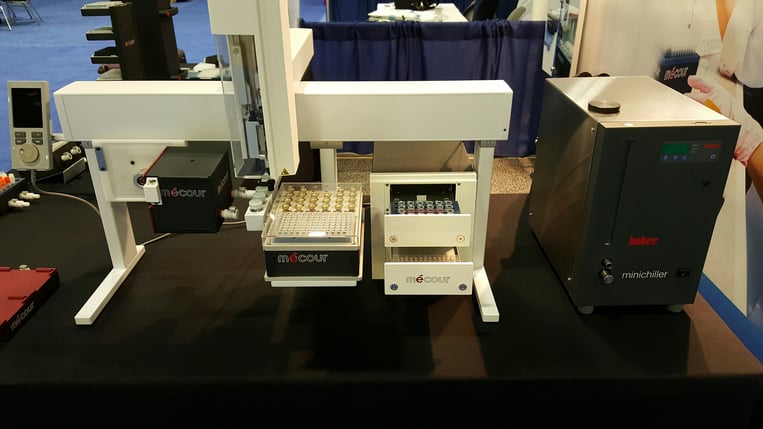 ---
Contact us today or visit our Mass Spec LC/GC solutions page on our website and review what we've designed for our customers. Let us know of your specific requirements for proper reliable thermal management systems. We will gladly provide you with a quote.