MéCour-GERSTEL Thermal System, Part No. 80-60GL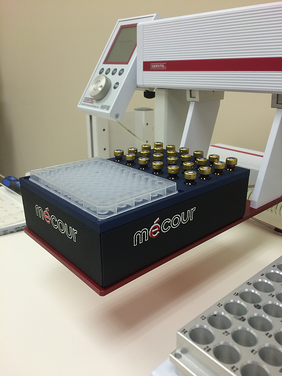 Introducing the latest in our accurate and uniform temperature control systems: MéCour's thermal trays that can be configured to integrate with a GERSTEL MultiPurpose Sampler MPS WorkStation or sample preparation robot, independent of the chromatography system. Sample preparation steps are easily set up for maximum flexibility and ease-of-use without compromising sample integrity due to temperature instability. The thermal trays can be designed to accommodate any consumable plate, vial or tubes and provide a temperature range between -40˚C to +200˚C. You are able to conduct specific ramping cycles all within the same MéCour Thermal Block.
The MéCour Thermal system is perfect for:
Derivatization and Standard addition

Dilution and extraction

Cooled or heated conditioning and mixing from -40˚C to +200˚C

Temperature ranges and ramping provided in same thermal block

Multiple thermal tray configurations that accommodate any consumable plate, vial or tubes

Sonication or Centrifugation

Automated weighing of liquid samples and standards

Parallel evaporation and concentration

Reading and processing of bar codes

Solid Phase Extraction SPE
For increased flexibility and performance, the WorkStation can be configured with two independent robotic systems enabling the combination of different syringes and the performance of multiple tasks using one automated system.
See this temperature control system live at LabAutomation this week, Booth 1223 or learn more on our website.
Control and Minimize Condensation From Your Applications With Our New "Condensation Terminator" Retractable Tower Cover, Part No. RC15-TW
Customers have approached us to help them resolve the common challenge of condensation in their applications. To complicate matters, some end-user applications include automated liquid handlers with active pipetting procedures and decks that will not tolerate exposure to moisture or water content. MéCour has successfully tackled and eliminated this problem with MéCour Thermal Blocks that are horizontal to the deck surface, via external flat top clear covers that integrate with pipetting procedures.
Some decks are limited in space and require compact temperature control solutions. MéCour's Thermal Towers are designed in vertical configurations in an effort to conserve valuable deck space or fit into small confined spaces. Our newly designed and tested retractable cover envelopes the entire front of the Thermal Tower and controls or minimizes the environmental impact humid air causes on 4˚C or lower thermal surfaces.
The retractable cover is driven by either air pressure or electrical power sources. It can integrate with the frequency the gripper needs to access the plates for loading or removing plates. The speed and length of time the cover is in the open and closed positions can be programmed into your overall software system for optimum use and control of environmental impact on thermal surfaces. The MéCour Thermal Towers provide between 4 to 12 thermal nests for standard microplates and up to approximately 8 positions for Deep Well Plates or reagent reservoirs.
Visit MéCour at SLAS 2015 or contact us to discuss your specifications and what thermal system will properly interface with your automated platform. See the system in action at SLAS, Booth 1223 or learn more and see how the "Condensation Terminator" works.
Let us know how we can help you with your temperature control challenges.