We continuously receive requests from customers and prospects who have used thermal electric devices and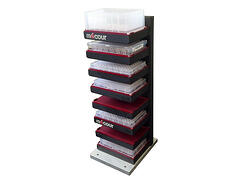 achieved poor results from their applications. These common situations have prompted us to produce this blog post with five ways that precise, uniform, stable temperature control is the answer for the best sample quality and application results.
Precise & Stable – Temperatures maintained within a +/- .01 degree. MéCour thermal units provide a reliable thermal platform that allows for constant reproducible results, minimizing downtime and need to repeat your work to achieve desired results.


Temperature Ranges – Thermal blocks span -100°C to +250°C while thermal electric devices range from 4°C to 120°C. We deliver the temperature for your application demands. Your sample temperature will be what you require and sustained at that specific temperature.


Adaptability – Thermal blocks can be configured in multiple formats, horizontal and vertical. We are not your average cookie cutter store! All thermal units are ultimately made only to your exact specifications to support your work flow in the manner that works best for you.


Cost – As the number of plate positions increase on a system, economies of scale make the use of thermal blocks an economical choice. Generally the larger the thermal system capacity the more economical it becomes (i.e., 1 plate to 2, 4, 6, etc.).


No Environmental Impact – Thermal Blocks do not produce a heat signature that a thermal electric unit will, potentially causing damage to samples. Thermal block systems are completely sealed at the work surface.
Are you experiencing sample evaporation or contamination due to excess unwanted heat exhaust? Have you no place to situate samples other than next to a muffin exhaust fan? MéCour thermal units have no heat exhaust, are compact with a low profile, and easily fit any automated deck or benchtop space. Easily connect to a circulating bath via two small insulated hoses, unlike the bulky rigid power cords required on all thermal electric devices, which won't run any other way.


We think it's about time you protected your expensive samples and obtained the best results possible from your applications. Contact us or visit our Product Catalog for more information.