We enjoy working with our wide network of partners to offer customers temperature management systems that protect the integrity of their valuable samples.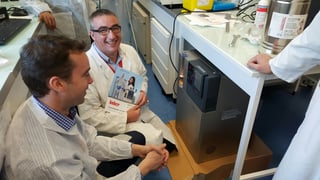 Recently we partnered with Freeslate, OPTIMUS Instruments Sarl and Huber to install a single-position thermal well that accommodates a 4x6 metal tube rack to operate and sustain sample temperature at -65°C.
The thermal unit is easily integrated with a Freeslate CM3 (Core Module 3, as shown in photos below), a configurable automation system for preparing, processing, and testing chemically complex samples and mixtures. A Huber Unistat 705 circulator with programmability via Pilot ONE was installed to sustain -65°C.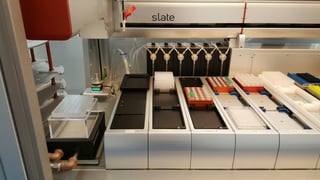 This thermal well unit is available from single- to four- or even six-position units and will accommodate any SBS-compliant metal or plastic rack or plate and sustains required temperature to properly manage samples. The full temperature range for this and any MéCour thermal unit is between -90°C to a +250°C.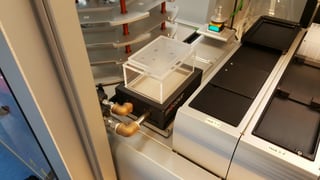 Contact MéCour to discuss what you require and how we can work with you to ensure full integration with your automation platform, or visit our product catalog for more information.