"You determine the time, let MéCour control the temperature"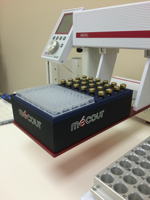 That was our theme at this month's ASMS conference where attendees stopped by to talk about the temperature control challenges they were having with their laboratory applications. Ice cubes, dry ice and cooling baths continue to be a common temperature control solution, but we all know that isn't the optimal way to treat your expensive laboratory samples and ensure quality results.
MéCour thermal blocks:
Are SBS-compliant
Fully accommodate your laboratory work flow
Are available in a wide temperature range

from -100˚C to +300˚C

for cooling, heating or both
Accurately record temperature for documentation and compliance
Provide precise, exact stable temperature control so there are no wasted materials or lost productivity time
Are specifically designed for your applications in many different formats and available for either automation or bench top
All MéCour thermal control solutions are designed to meet your exact requirements, whether for Mass Spec or other applications. Please visit our Product Catalog and Applications pages to find a solution that is right for you.
Already know what you need?
Request a quote, and we will contact you with the details.